Modular and prefabricated but far from temporary, Minima by Trias replaces the gimmicky pull of the tiny home with a high-quality solution to small-footprint living.
In a world groaning under the weight of human excess and consumption, Minima is a breath of fresh air. This modular micro home is designed by Sydney architectural studio Trias and built by Fabprefab on the New South Wales Central Coast. It combines the experience and passion of both these young practices, distilling some very big-picture thinking into a beautifully resolved home that can literally be installed in a day.
Prefabricated housing has been around since the 1950s postwar manufacturing boom, but it hasn't really evolved to expectations in Australia. It's trapped between a curiosity and a commodity – caravan meets IKEA – promising portability and instant gratification on a budget. But that mindset needs changing. Even IKEA is trying to mitigate the disposable fast-furniture nature of its market and the profligate waste of products designed for a short shelf life.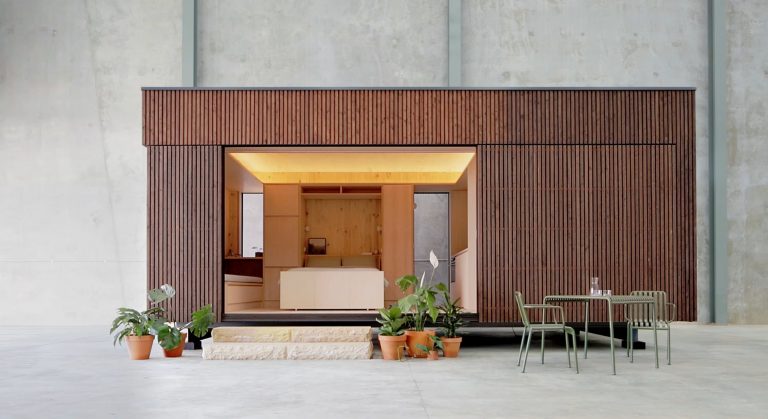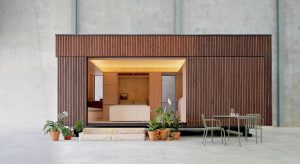 Minima steps up to this challenge. It's an efficiently made, seamlessly designed tiny home that's far superior in quality to most conventionally built houses. Constructed and fitted out in a factory on the Central Coast, Minima is then put on a trailer and taken to site for installation, which can take less than a day.
"We did a lot of research into the Australian and overseas markets. In Australia the emphasis tends to be on low cost, whereas in Europe the emphasis is on quality and longevity," says Trias director Jennifer McMaster. "This aligns perfectly with the philosophy of our practice. We wanted to create something consciously good quality, but also to explore how to make a prefab house not look like a prefab."
The architects have thought a lot about possible uses for Minima – from backyard studio or music room to guestroom, games room or self-contained apartment for grandparents and students. They designed a range of interior configurations to suit. A typical fitout includes kitchen, bathroom, built-in storage, a day bed or desk, or even a fold-down bed. With the addition of another module, the 20-square-metre Minima scales up to 40 square metres when planned as either a one- or two-bedroom home. The 7 x 3.5-metre footprint of a single Minima module makes transit to site easy for a suburban or laneway site. It rests on a proprietary steel Stop Digging screw, which requires no concrete and is removable for minimal site disruption.
The structure is fire-rated cross-laminated timber boards, made locally from sustainable Australian plantation timbers. These brick-thick sheets account for the shell – walls, floor and ceilings. Inside, the sheets are sealed and left exposed for a natural timber-lined interior, while externally, the structure is insulated and screened with dark timber battens. Ceilings have two layers of insulation under the steel roof. The large main opening has three layers of screening for interior comfort and privacy: hardwood-framed glass doors that slide neatly into the facade, a hardwood screen with an integrated flyscreen and a diaphanous white curtain. A small door off the kitchen takes care of cross-ventilation.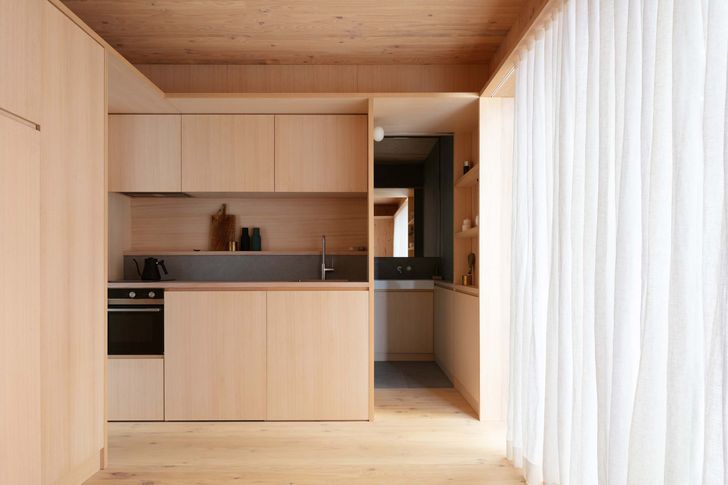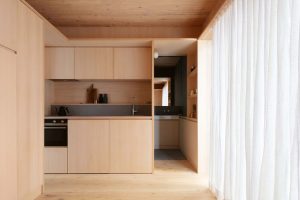 The compact interior is designed as a streamlined series of zones with built-in cupboards, shelves and drawers wrapped around the edge, leaving a flexible open space in the centre. "Keeping all the joints and lines as simple and seamless as possible is important in a small space. We've lived in tiny apartment spaces, so we know how critical those lines are in making a space feel larger," says Trias director Jonathon Donnelly.
Since forming Trias in 2017, directors Jennifer, Jonathon and Casey Bryant have been entering and winning design competitions, addressing big-city issues with incisive small-scale thinking. They were runners-up in the 2017 Missing Middle housing competition in New South Wales and among the winners of the national 2017 Density and Diversity Done Well competition run by the Queensland Government.
"Something that's always stuck with us is a finding from a 2018 Grattan Institute report into Australian cities: 'The quickest way to double density is to add something small to every existing block.' Small insertions can help retain suburban character, while adding enormously to social cohesion and housing," says Jennifer. Along with Fabprefab, Trias is also investigating Minima options for off-grid and rural sites.
Fabprefab was founded by builder and developer Tony Olding, with carpenter and builder Ed Callanan as construction manager. Its mission is to advance sustainable design and fabrication. Minima joins Fabprefab's prefabricated Courtyard House – a large off-grid rural dwelling created with Chrofi (see Houses 136). This home was recognized for sustainability and design at the 2020 Houses Awards and the 2020 Master Builders Association Awards.
As Ed explains, "People think modular and prefab should be cheap. It's not necessarily cheap, but we're providing high quality and a more sustainable and affordable way to build than conventional housing. The huge saving is time, with the benefit of the quality control that comes with doing construction in a controlled factory environment."