With Australian house prices currently experiencing inexplicable growth, more Australians than ever before are being priced out of the traditional property market. Meanwhile, many of us have also found ourselves working from home over the past year…  so it's no surprise Australia is seeing an uptick in alternative housing solutions.
Among them is Minima – a series of prefabricated, small dwellings developed by FABPREFAB, designed by TRIAS architects, and constructed using CLT (cross laminated timber).
The project is available in multiple configurations, to serve as either a home office, living space, bedroom, or entire tiny house. It's one of the only architect-designed, modular tiny houses on the market in Australia, and can be built to order in as little as 12 weeks!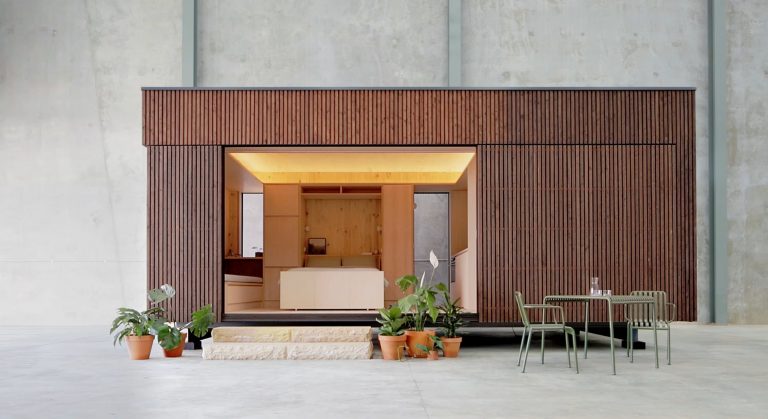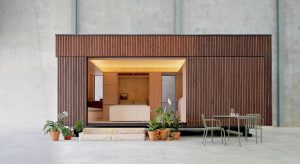 When designing and building a new house in Australia, there are currently very few options between mass-produced plans, and architect-designed bespoke projects. For those who can't afford the latter, or are seeking something more considered than the former, Minima is an attractive alternative.
The project is the brainchild of prefabrication and modular residential construction company FABPREFAB, who collaborated with Sydney based TRIAS architects based on their Slate Cabin design – a 13 square metre hiking cabin built in Snowdonia National Park in Wales. The brief was to create a similarly compact dwelling that fits standard trucking widths (for transportation).
Trias initially began designing a one-bedroom 'garden apartment', looking internationally for inspiration. 'We looked at all kinds of global examples, ranging from micro-apartments in New York to luxury cabins in Scandinavia. These spaces taught us the importance of flexible planning and attention to detail,' says Jennifer McMaster, principal at Trias. 'The best examples also used very few materials, a technique which makes small spaces feel unified and calm.'
The practice were keen to avoid the stereotypical 'prefab look', which Jennifer says is often characterised by small openings, standard materials, and cheap detailing.
As demand for a wider range of products was realised, Minima expanded to include larger two-module options, and other configurations. The completed project is now available in six arrangements ranging from 24.5 square metres (including spare bedrooms, home offices, and all-inclusive tiny houses) and larger, standalone dwellings of 72 square metres.
All Minima projects have been designed in harmony, meaning a single module can be joined into a dual configuration, without changing the essential design. 'Similarly, the plumbing points for kitchens and bathrooms always stay in the same spot, which makes construction more streamlined,' Jennifer says.
Jennifer envisions Minima as most suitable for three key demographics: existing home owners seeking added breathing space; those interested in a permanent, architect-designed tiny house; and accommodation operators.
Prices for Minima start at around $130,000 and stretch to $250,000 (excluding site specific costs, such as approvals, delivery and service connections) depending on size and layout. Dwellings are constructed using CLT manufactured by XLam in their Wodonga factory; can be built in as little as 12 weeks; and delivered Australia-wide.
As Minima dwellings are more affordable than most conventional architectural builds, Jennifer hopes they will provide a viable housing alternative for design-conscious consumers.
'Minima is our chance, as architects, to offer good, progressive and sustainable design to more people,' Jennifer says. 'This is a vision we believe in wholeheartedly, and one we hope will change the way we build in Australia.'