Meet Minima, designed by Trias Studio, built and developed by FabPreFab, Minima is a minimalist prefabricated module with a lot of potential. A small home, studio, retreat, guest accommodation – Minima offers a solution wherever elegant, versatile design is needed.
Trias Studio were commissioned to design Minima by FabPreFab, a boutique developer working to create prefabricated design solutions that are innovative, clever, compact and crafted. FabPreFab believe that prefabricated building techniques have great potential to deliver a better design product, not 'cheap and cheerful' but certainly more efficient and cost-effective. They approached the market from two ends, starting with a micro-dwelling, Minima, and a small-footprint house, the Courtyard House designed by Chrofi Architects.
The interior of the Minima module, which can include a fold out bed for accommodation, or a desk and shelving for a home office or studio.
Jonathon Donnelly, co-founding director of Trias Studio, says they were motivated to be involved as Minima aligns with the practice's broader goals. "As architects, we believe that our housing culture should provide a wide range of housing, at a variety of quality and price points", he says. "We believe that we have a responsibility to live with less and build better. Our resources are so precious, and we simply need to be living in smaller, more sustainable homes."
Minima is their contribution to the broader social dialogue around housing in Australia, and offers a step toward making smaller, more efficient and sustainable living possible. The design is based on two modules; the single module can either be fitted out with a fold down bed or desk and shelving to be used as a home office, and the second module can be added to create an apartment-sized mini house. The modules are constructed from cross-laminated timber (CLT), "a highly sustainable, healthy and beautiful method of construction that is still uncommon in Australia – so we're pretty pleased to be trialing in out with Minima", says Jonathon.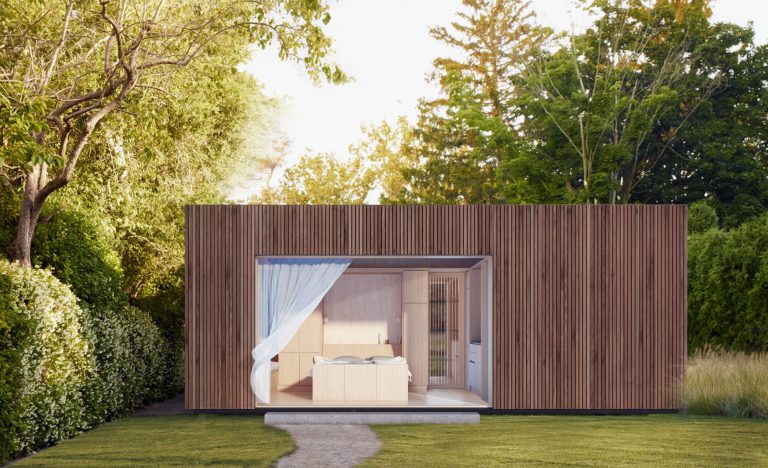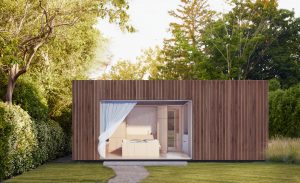 CLT helps to mitigate some of the challenges associated with prefabricated design and building. Where traditional building is constructed from the ground up, prefabricated modules need to be capable of assembly off-site, and withstand the stresses of transportation and maneuvering onto the site. As a stable material, CLT provides a rigid framework so the modules can be moved without fear of structural failure. An added benefit is that the material also creates a beautiful interior finish.
Another challenge for the architects when designing for prefab is the lack of traditional constraints such as a site or surrounding environment. Minima needed to be versatile enough to suit a variety of uses and ground conditions, while still capturing the essence of minimalism. The brief for a design that could be delivered as a standard product, forms quite the departure from the usual architectural emphasis on bespoke, unique design.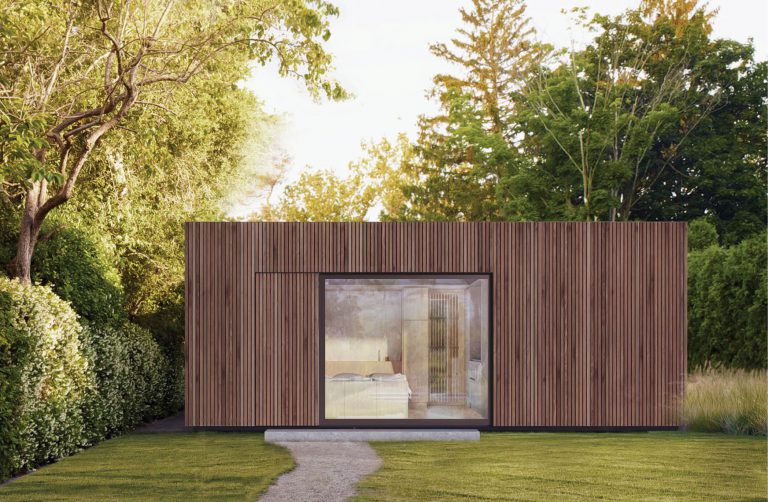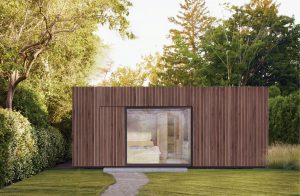 This is not only to keep costs down and ensure it is more affordable, but also to maintain Minima's integrity as a consistent, elegant and simple design. "FabPreFab want to streamline the purchasing process, so the decisions are really narrowed down to a few key items", explains Jonathon. "There's something nice about this in a housing market that often bombards you with choices – instead, you can trust in what you see, and trust that an architect has done all that thinking for you."